This year, the confidence, laughter, courage, and pure joy of camp will follow our campers to wherever they call home through our online programming. When you give today, your generosity will help fuel life-changing experiences for children and serious illnesses and their families in new and innovative ways!
We need your help to keep that camp-tastic feeling going! Donate today and you can make your donation go twice as far. Our big-hearted donor, The Frechette Family Foundation, will MATCH YOUR GIFT DOLLAR FOR DOLLAR up to $50,000!
You can fuel the feeling all year long! Sign up for monthly giving by selecting 'Make this a monthly gift' in the form below.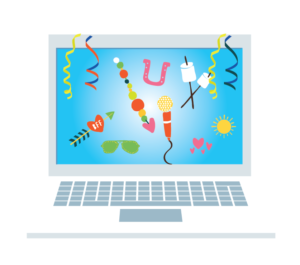 Interested in learning what camp looks like in 2020? Please consider joining us for one or all of our interactive virtual activities, hosted specifically for our stakeholders.
July 1 – Virtual Closing Ceremonies – 2:00 p.m. MDT
This tradition is full of gratitude and reflection as campers share their wish stars, sing camp songs, and learn about taking the feelings of camp out into the world to inspire change and positivity. Join in and experience firsthand the lasting impact of your support.
June 29 – Virtual Candle Chat – 6:00 p.m. MDT
Candle Chat is a reflective camp activity at the end of each day. It is critical to the intentionality of our programming and we are continuing it through Here We Go Online and our Best Week Ever newsletter. It provides a space for campers to share their thoughts and feelings, promoting inclusivity and acceptance.
June 24 – Virtual Best Day Ever – 10:00 a.m. MDT
Hear from campers, volunteers, and staff about what makes Roundup River Ranch their happy, happy, place! Our Best Day Ever camp tradition lives on in virtual camp through our Best Week Ever newsletter including community sharing, jokes, songs, and quotes.