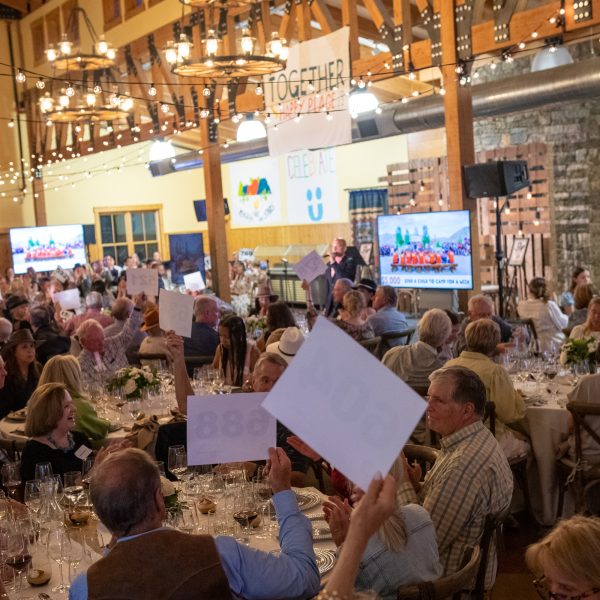 A Grateful Harvest
Event Summary
Thank you for an amazing night at A Grateful Harvest, on Saturday, August 12, at our campsite. Gather under our roof inside Trent's Cookhouse and delight your senses with cocktails, hors d'oeuvres, dinner from renowned local chefs, and delectable wines. Celebrate how camp makes it possible for every camper to SHINE, because of supporters like you! This popular fundraising event raises vital funds for Roundup River Ranch and positively impacts the nonprofit's annual operating budget and programming it provides to thousands of children living with serious illnesses and their families. Funds raised during the event supports onsite programs and extensive Outreach Programs year-round, free of charge.
Our evening program includes amazing camper stories, a live auction, and "Camper Call" paddle raise.
Proceeds from A Grateful Harvest will support Roundup River Ranch's mission to provide
children with serious illnesses and their families free, life-changing camp programs.
Did you miss the event? You can still support camp by donating here!

Thank you to our 2023 Sponsors:
Trent's Cookhouse Sponsor
Donna & Pat Martin
S'More Sponsors
Kathy Cole & Carole Watters
David Horvitz & Francie Bishop Good
Peak1 Express
Alpine Bank
Cabin Sponsors

Cathie Bennett & Fred Frailey
Greer & Jack Gardner
Candle Chat Sponsors
Eileen Clune
Rebeca & Dan Hanrahan
Suzanne & Bernie Scharf
Debbie & Jim Schultz
Kathie & Bob Shafer
Margaret & Glen Wood
Campfire Sponsors
Anonymous
Suzi Ballard
Molly & Ernest Braxton, and Andrea Eddy
CordilleraCares
First Western Trust
John Forester
Barbara Gardner and William Sterett, MD
Dr. Lia Gore/Carla Dore
Weller, Johnson, Verratti, Merriman, & Garofalo
Ruth Johnson, JD & Kris Sabel
Sally & Dick O'Loughlin
Squash Blossom
Liz Stern/Nancy & Harold Zirkin
Vail Health
Tom Woodell
Kristy & Bill Woolfolk