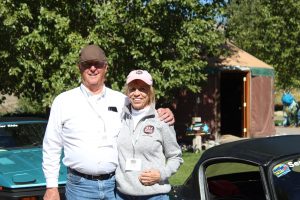 Driving For Kids has been FUELING UP camp since 2016 and has raised over $500,000 dollars for campers since it began! This year alone they put the pedal to the metal and raised a record-breaking $96,820, which brought them across the half-a-million mark!
Driving For Kids was sparked when Ann and Ross Robbins called Roundup River Ranch in 2015 with an interest in doing a fundraiser for Roundup River Ranch. As part of Lotus Colorado – "a fun-loving bunch that not only embraces the rich and innovative history of the Lotus marque" – they wanted to combine their passion for cars with their passion for giving back.
This unique and exciting fundraiser was inspired by Paul Newman. Paul Newman was not only a movie star, founder of Newman's Own, and founder of SeriousFun Children's Network – he was also a race car driver! His very first race car was a Lotus Elan, which created a special connection between Lotus Colorado and Roundup River Ranch – a SeriousFun Children's Network Camp. And the Lotus Elan is the car Ann and Ross drove for Driving For Kids this year as Team Seriously Fun!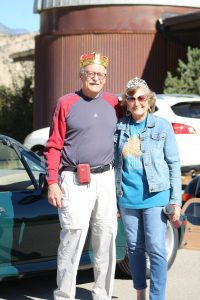 Since 2016, Ann and Ross have headed up the Driving For Kids effort, inspiring other car enthusiasts to join in and raise important funds for Roundup River Ranch in the perfect way – a car tour! Every September, Driving For Kids travels throughout Colorado in a variety of spectacular cars. Each car has a team that raises money for camp. Each year during their car tour, they make a stop at our campsite during a Family Camp weekend to put on a fabulous car show where campers and their families have the opportunity to get in the cars, speak with the drivers, and dream about where they could go!
A note included with a donation this year said, "We met your group at a hotel in Gunnison, CO. Our children enjoyed seeing your cars. Thank you for what you did for Roundup River Ranch!"
One special team has been part of Driving For Kids since the beginning and have continuously been leaders in fundraising. Chuck and Emma Shinn raised over $40,000 as Team Shindig Rover this year! Due to their continued commitment and dedication, they were named the "King and Queen of Fundraising" and were presented with their very own crowns!
"This is very close to our hearts. It's so important for us to be able to contribute and make sure that you guys with your families and your children have the opportunity to come and spend such a wonderful, wonderful week over here in this marvelous environment." – Emma, Queen of Fundraising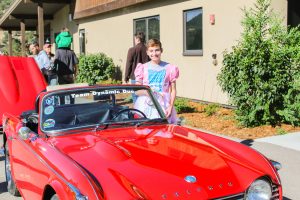 Another longtime participant of Driving For Kids, Bill McCammon, on team "Two Old Racers". His friend Norm came up from Arizona to do the drive with Bill. They were both racers, hence the name "Two Old Racers". Bill first joined Driving For Kids in 2017, and as a cancer survivor, he shared, "When I saw what it really was, I realized that's something I have to be a part of," and he's continued to be part of it ever since!
Driving For Kids acknowledges what Roundup River Ranch is all about – People. People willing and wanting to volunteer their time, talent, and treasures to bring the healing power of camp to our beloved kiddos and their families. These past years have taught us all how through giving we receive: joy, friendship, generosity, and fun.
You can learn about this year's teams and learn more about Driving For Kids here.