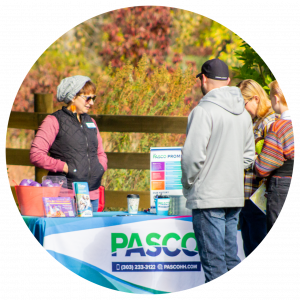 PASCO is one of our generous partners who helped sponsor our Fall Festival at Chatfield Farms on October 14! Camper families, our Denver Leadership Council, along with several of our partners were welcomed to the beautiful Denver Botanical Garden's Chatfield Farms venue for plenty of fun fall activities. We are grateful to PASCO for supporting and attending this event!
PASCO chose to sponsor the Fall Festival, because "PASCO wants families to be aware of the services offered through Health First Colorado that can ease the stress in their lives and the best way to educate them is to meet people face to face," said Cassie Angerer, PASCO Outreach Coordinator.
PASCO serves Colorado's disabled community by providing home health care services and support so that every person may live a fulfilled life in their home and community regardless of disability. The missions of Roundup River Ranch and PASCO are well-aligned, which was a key factor in establishing this partnership.
"I'm always looking for ways to partner with organizations that serve children with special needs, especially non-profits. PASCO is focused on servicing the Family Caregiver Model that helps clients of all ages live independently in the community. Roundup River Ranch gives kids the opportunity to just be a kid and have fun at camp. Both organizations help families focus on living life their way with less worry about health issues," said Cassie.
Roundup River Ranch looks forward to partnering with PASCO more in the future, and is grateful for their continued generosity. Cassie said she's excited about the partnership, because, "when a parent learns about supports like the Family Caregiver Program for the first time, it can be emotional. I want to help families understand what benefits they are entitled to and how those benefits can make their lives easier."
We recognize the many ways that PASCO shines in the Colorado community, and together we shine even brighter!  
Cassie said, "PASCO creates and maintains a community where individuals of all ability levels can pursue and succeed with choice and independence. PASCO has been a shining star in our community for more than 30 years and PASCO plans to shine on for 30 more!"
Thank you, PASCO!