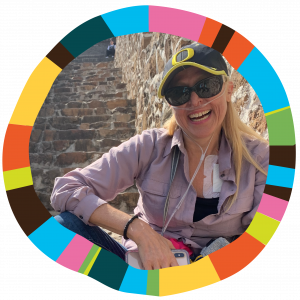 Diane Cushman Neal is a donor that truly Shines On and brings light into everything she touches! She is a passionate and dedicated wife, mother, daughter, friend, Founder & President of Donations For Dignity, proud supporter of Roundup River Ranch – and lives with Cystic Fibrosis (CF).
Growing up with chronic and progressive lung disease, Diane wasn't officially diagnosed with CF until she was 39 years old, but faced many medical issues growing up, which allows her to understand and connect with the mission of Roundup River Ranch in a truly special way.
As a child, Diane had the opportunity to attend Camp Pillfeather and said "Camp was the greatest part of every year. Meeting others who have the same struggles created a sense of normalcy."
When Diane learned about Roundup River Ranch, she remembered her own camp experiences – "I could hear the laughter we shared at camp, I felt the warm sun while in the swimming pool with friends, I pictured the raids on cabins that became traditions."
 "I knew this was a significant part of my childhood and I wanted to ensure other kiddos could have the same experiences."
Diane has accomplished many incredible things in spite of her medical challenges. Her personal achievements include completing a 5K, the Boulder Bolder, skiing downhill, cross-country skiing, and snowshoeing, all with oxygen on her back!  She also finished in the top third for her age in a mini-triathlon!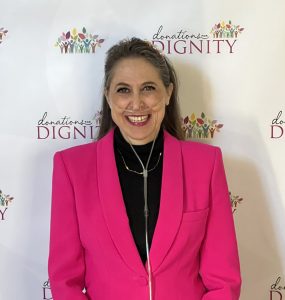 She has been inspired by the Jane Goodall quote that reads, "You cannot get through a single day without having an impact on the world around you. What you do makes a difference, and you have to decide what kind of difference you want to make."
When the pandemic hit, Diane recognized that many children who typically received free meals at school were unable – and she wanted to help. Upon speaking with her local food pantry, she said she was, "shocked to learn the pantry felt 'lucky' to provide a woman with six pieces of period products per month. At that moment, I made a pact with myself that somehow I would provide one year of period products for our local food pantry."
After further research about Supplemental Nutrition Assistance Program (SNAP) and Women Infant and Children (WIC), she discovered these programs do not support the purchase of any hygiene products. In 2021, she had fulfilled her pact to provide period products for a year and was ready to devote herself to something bigger – Donations For Dignity.
Diane created Donations For Dignity to fight the hidden crisis in our communities – hygiene poverty, the inability to access diapers, wipes, oral care, soap, shampoo, deodorant, and much more. From partnering with her local food pantry, Donations for Dignity has grown to 55 partnerships working together to address hygiene poverty throughout Colorado.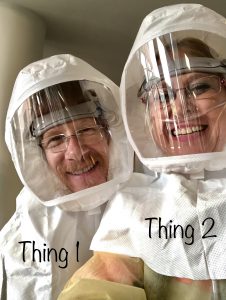 "As a patient with a chronic and progressive disease, I understand the paramount piece hygiene plays for me in protecting myself from common illnesses that we all encounter. I need a double lung transplant and access to hygiene products is a significant part of infection control to protect myself and all patients."
Diane has become a dedicated donor and supporter of Roundup River Ranch due to her personal connection to the mission.
"My love for camp and my work with bringing awareness, education, and access to Coloradans on hygiene, was the perfect blending of myself and what I wanted for all kiddos with diseases to be able to experience."
We are excited to partner with Donations for Dignity with the vision of providing hygiene products to our campers and their families – both at camp and at home.
"My hope for our partnership is to allow families to continue to focus on what is important – kids being kids, parents, grandparents, friends to laugh, sing, dance, make memories both with their cameras and to put down the cameras and take mental snapshots – enjoying life."
We are grateful for the personal support from Diane and look forward to growing our partnership with Donations for Dignity to provide essential resources to our campers and alleviate stress on camper families.
Diane's journey with Cystic Fibrosis, her passion for hygiene, and her love of camp have culminated in an incredible connection with Roundup River Ranch and we feel so lucky for her support.