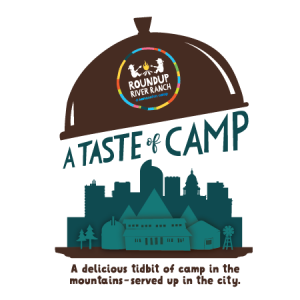 FOR IMMEDIATE RELEASE – Roundup River Ranch's Spring Gala Gives Donors a Chance to Experience Pure Camp Joy in the Heart of Denver with A Taste of Camp
Celebrating the 2023 camp theme SHINE ON, Executive Chef, Troy Guard, is bringing  A Taste of Camp to the city with a specialty menu
Today, Roundup River Ranch, a nonprofit that enriches the lives of children with serious illnesses and their families by offering free, medically-supported camp programs, announced details about A Taste of Camp, one of the organization's most popular annual fundraising events that gives donors and supporters a glimpse into their magical camp experience. This year's event will take place on Thursday, May 18, at 6:00 p.m. at Asterisk and will feature family-style dinner options from a specialty menu specifically curated for the event by Chef Troy Guard, Executive Chef at TAG Restaurant Group.
"Nothing makes us happier than sharing the joy of camp with our supporters and partners in Denver and the Front Range," said Sarah Johnson, president and CEO of Roundup River Ranch. "Without their heartfelt support and donations raised at A Taste of Camp, we wouldn't be able to continue providing innovative, free, medically-supported camp programs for children and their families."
For the first time since the event's inception, the family-style menu will be designed by a Denver local, Chef Troy Guard, who has been named one of the "Great Regional Chefs of America" by the James Beard Foundation and is the owner of TAG Restaurant Group. His portfolio currently comprises four show-stopping brands: the modern steakhouse, Guard and Grace; the bold Mexican, Los Chingones; the build-you-own bowl, Bubu; and the brunch hotspot, HashTAG. A Taste of Camp will also feature a cocktail hour, evening program and dinner, a silent and live auction, and paddle raise. Guests are encouraged to dress in Colorado casual attire. All proceeds from the event go toward creating free programs and serving hundreds of children coping with cancer, blood disorders, organ transplants and other rare and serious conditions. To end the night, Kathy Cole will be acknowledged and presented with the 2023 Superhero Award, a recognition awarded to supporters who have made a lasting, heroic difference at camp.
This year, attendees are encouraged to keep the party going at the after party being held at Asterisk's rooftop deck from 9:00 p.m. to 10:30 p.m. hosted by Impact Denver, a Denver Metro Chamber Leadership Foundation. The after party is sponsored by Suburban Toppers and will feature DJ entertainment.
"We've been working with Roundup River Ranch for a while now and absolutely love the work they are doing for the kids in our community," said Chef Troy Guard, owner of TAG Restaurant group. "One of the fundamental principles of TAG Restaurant Group is to always give back when we can, and we couldn't be more proud to partner with an organization as top notch as Roundup River Ranch. It's going to be a blast getting to meet and cook for all the guests. They're in for a treat!"
A Taste of Camp is generously supported by corporate sponsors Alpine Bank, Alterra Mountain Company, Children's Hospital Colorado, Vail Resorts Epic Promise, and First Western Trust. For more information on A Taste of Camp, to purchase tickets and become a sponsor, visit www.ATasteofCamp.com.
MEDIA CONTACT:
Lilly Carrion
Palmer Public Inc.
lilly@palmerpublic.com
954.600.8860
CAMP CONTACT:
Jenn Clark
jclark@roundupriverranch.org
970.524.5762