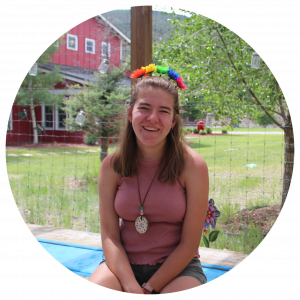 Camper Lilly has a huge, giving heart. Thanks to Lilly, everyone who visits Roundup River Ranch can enjoy the beauty of Lilly's Sound Garden.
After being diagnosed with chronic kidney disease, Lilly and her family were introduced to Roundup River Ranch…giving Lilly the opportunity to be a camper onsite at Roundup River Ranch 5 times.
When she found out she was granted a wish through Make-A-Wish in 2021, Lilly chose to give her wish to Roundup River Ranch — to create a sound garden at camp.
"For me giving back has always been a great motivator. I love to help other people thrive and it gives me a sense of accomplishment and drive to keep going." – Lilly, Camper
Her hope was to build a beautiful space where campers could use various instruments and imaginative ways to create music in the outdoors.
That dream has started to blossom during Phase I of Lilly's Garden with bright colors, musical flowers, and a color-coded chime with a songbook. Lilly and Roundup River Ranch look forward to growing Lilly's Garden in upcoming phases. An official ribbon-cutting took place while Lilly was at her final onsite camp in June 2022, where friends and family gathered to celebrate the legacy Lilly has created. 
Lilly embodies the spirit of giving back and enriching the lives of others. 
Watch the full story of Lilly's Garden here:
If you're touched by Lilly's story and want to give back, you can give to Roundup River Ranch here.