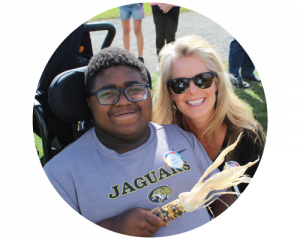 This summer was extra special for Camper David. At seventeen years old he was able to attend his first summer camp session! David has been diagnosed with cerebral palsy, fetal alcohol syndrome, and Aicardi – Goutieres, which is a rare genetic disorder. These diagnoses impair David's ability to walk, talk, and independently live life like others his age. However, at camp David participated, engaged, and played like all of his peers!
His mom Taffeta shared that because it was his first time at camp, "David was so excited to go! The staff greeted him right away, everybody was on the same page with what he needed, and welcomed us with open arms."
A memorable camp moment was when David sang his heart out to Lionel Richie for stage night. "Nothing prepared me for pick up time! When I pulled up to get David the whole camp broke out in a choreographed song and dance to Lionel Richie! David was over the moon happy and extremely connected to every staff member around him. I'm sure he would have liked to have stayed an entire year at camp!" says Taffeta.
At camp, David tried new things and made friends who also love Batman as much as him. After camp Taffeta said she saw a change within David. "David was so proud to tell people about the things he did at camp, playing games, singing karaoke, fishing, etc. He moved with a sense of belonging that was independent from me and the family. It was a very healthy growth experience for him."
David's family found out about Roundup River Ranch in his teen years and would recommend for any family to apply early, in order to attend camp as many times as you can. 
Taffeta described camp as "an oasis for kids with special needs. They get the typical camp experience, fun activities, group living, adventure seeking, s'mores all while their needs are being cared for, but not the main focus. Being a kid and having fun and encouragement to try new things is the focus." 
As a supporter of Roundup River Ranch, YOU helped make this experience possible for David. From Taffeta, David and the entire Roundup River Ranch team, thank you for your gift of life-changing experiences for campers like David.