Financial Overview and Statements
In order to deliver the most impactful and life-changing camper experiences, Roundup River Ranch is committed to transparency, fiscal responsibility, and best practices in governance.
Financial information from November 1, 2020, through October 31, 2021, is based on FY2021 audit. 
Roundup River Ranch's auditors certified that our FY2021 audited financials comply with the Philanthropy Advisory Service of the Council of Better Business Bureau's and American Institute of Philanthropy's standards and that our expense allocations are consistent with best practices in nonprofit management and fundraising. In addition to reviewing financials, organizational transparency, governance, leadership, and program results are important indicators of excellence in nonprofit performance. FY2021 overhead costs include important investments in training, planning, evaluation, and fundraising so we can continue to operate our programs at a high level of excellence.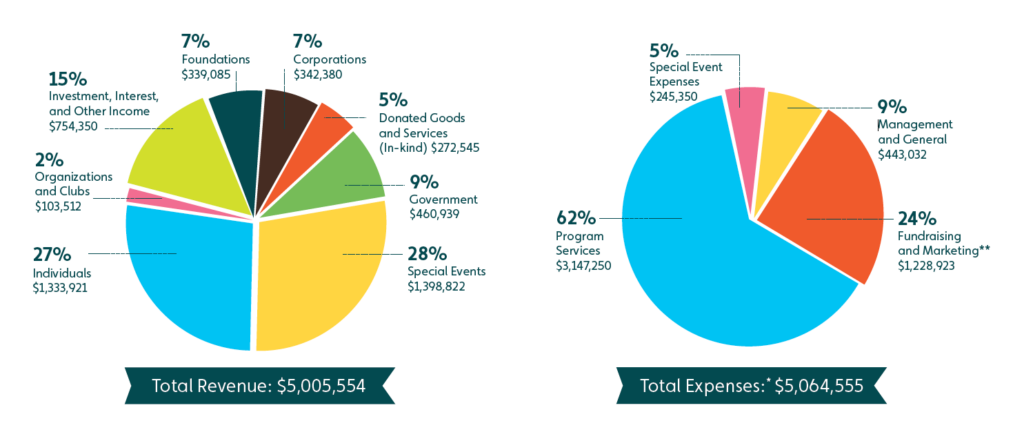 *Annual fixed asset depreciation ($703,265) is included in the expense chart. When comparing cash expenses with revenues, excluding annual asset depreciation, Roundup River Ranch maintains a balanced cash budget. In-kind expenses are allocated within their corresponding department in each of the expense categories.
** Please note that the Board of Directors invested in Roundup River Ranch's future by retaining an outside consulting firm to advise on growth and future strategic direction. These expenses are included within the Fundraising and Marketing expenditures and will not be annual ongoing expenses. These consulting fees and additional growth related expenses account for approximately 18% of the Fundraising and Marketing expenses.
_________________________________________________________________________________________________
Financial Statements