A movie star beginning with a down-to-earth idea.
Roundup River Ranch began with a dream to carry out the vision of actor Paul Newman and bring a Hole in the Wall Camp (now SeriousFun Children's Network) to Colorado. Two members of the Hole in the Wall Board of Directors, David Horvitz and John Forester, envisioned a camp set in the beautiful Rocky Mountain region. As luck would have it, Alison Knapp,  a retired executive and local resident, also envisioned a camp in the valley after attending a fundraiser with David for a Florida SeriousFun camp. In 2006, Alison officially founded Roundup River Ranch. Alison recruited a diverse founding Board of Directors and our Founding President and CEO, Ruth Johnson. Over the next five years, the Board and a dedicated group of staff, volunteers, community and corporate partners, and many others worked tirelessly to make sure we were ready to welcome our first campers on July 6, 2011.
From the first "Welcome to camp" to the ever-increasing numbers of campers and families whose lives have been transformed by Roundup River Ranch, Mr. Newman's vision lives on. This is indeed a place where kids can "raise a little hell" as he said, and have the chance to be a fun-loving, worry-free kid.
"There was never a time that I thought that it would not happen. I truly believed that all the pieces of a project of this magnitude would come together." – Alison Knapp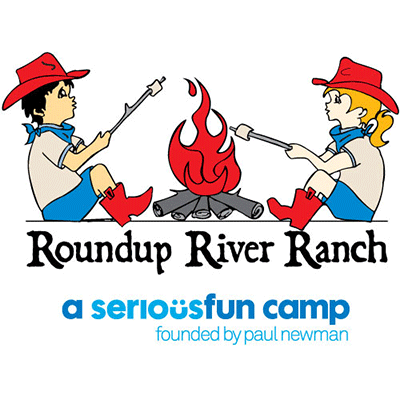 Roundup River Ranch's first logo