An amazing out-of-the-box camp experience delivered straight to your doorstep!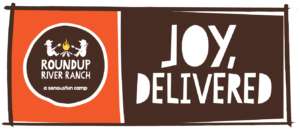 Joy, Delivered is a free camp experience that supports and engages children in fun activities that inspire creativity, compassion, resilience, teamwork,and play. The magic and joy of camp will be delivered with all the supplies, instructions, and activities necessary to experience the joy of camp together with your family.

What's in the box?
Each box will include at least 8 DIY activities that can be experienced alone or with others including:
Art projects
Get Up & Get Active movement cards
STEM activities
Fun jokes and riddles
Camp games and activities
and so much more!
How much does it cost?
All Roundup River Ranch programs are completely free of charge for children with serious illnesses and their families.
How often will I receive a box?
You can sign up to receive our Joy, Delivered boxes quarterly. Meaning four boxes of camp joy all year long!
Who qualifies for Joy, Delivered?
Campers must be between the ages of 7-17 and traditionally qualify for Roundup River Ranch. For more information about qualifications, click here!
Questions?
Please contact our Camper Recruitment team at camperrecruiter@roundupriverranch.org or (970) 524-5713.
---
Interested in funding this program? Learn more about our Joy, Delivered "Buy One, Give One" program here.