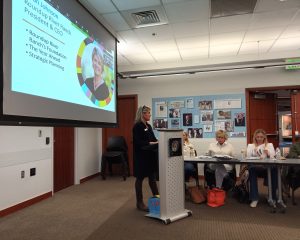 Our community is growing! Roundup River Ranch hosted our first Denver Leadership Council meeting on Wednesday, March 1, 2023, at the Daniels Fund. Our team knows the limitless value of the Denver community in regard to our campers and the future of camp.
Many of the campers and families we serve call Denver & the Front Range home, they are patients at Front Range hospitals, and work with specialists in the area. Strengthening relationships and opportunities is a key strategy for our team!
The role of the Roundup River Ranch Denver Leadership Committee is to provide current innovative knowledge and offer resources, critical thinking, and analysis to increase the long-term empowerment of the Denver community. Joining us were members of Team 3, from Denver Impact representing the Denver Metro Chamber Leadership Foundation. Thank you to all our Denver & Front Range supporters and partners.
In the meeting, camper Lilly was able to share her connection with camp and story. After being diagnosed with chronic kidney disease, Lilly and her family were introduced to Roundup River Ranch…giving Lilly the opportunity to be a camper onsite at Roundup River Ranch 5 times. When she found out she was granted a wish through Make-A-Wish in 2021, Lilly chose to give her wish to Roundup River Ranch — to create a sound garden at camp. It was a special moment for the Committee to hear Lilly's story and know the impact they will have on campers!
We will be celebrating our Denver community and raising money for camp, at our annual A Taste of Camp gala on May 18, 2023. Tickets are available now for seats and sponsorships here. Join us for an evening of gratitude and growth with members of our Denver Leadership Committee, and camp supporters.