MEET BETHANY!
Certified Child Life Specialist and trusted Camp Liaison!
During Child Life Month, we want to recognize the diligent work of Bethany, our Certified Child Life Specialist who serves as our Camp Liaison with Children's Hospital Colorado.
"The incredible work that Bethany does is critical to our success. She is a lifeline for families and staff at Children's Hospital Colorado. For hundreds of our camper families, Bethany is their first point of contact—she is the friendly voice on the phone and the smiling face at bus check-in. She makes the hard work she does look effortless because of her dedication to our mission and most of all, to our camper families. We are SO lucky to have her!" – Mitzi Marquez, Admissions Manager.
Bethany has always loved working with kids and growing up, she thought she wanted to be a teacher. Then, as she got older, she realized she also loved science and the systems of the human body.
She started college with an open mind for her future career. As soon as Bethany heard about child life, she knew that's what she wanted to pursue.
"When I heard about the field of child life from a dorm friend, I said, that sounds like all of the things that I love, the body, medicine, and working with kids, combined into one career." said Bethany.
That same day, she declared her major and the rest was history! At one point during her child life internship, she recalls calling her mom and telling her "this is it…this is a total fit for me."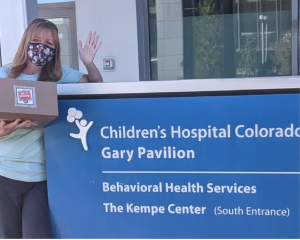 Bethany started at Children's Hospital Colorado working as a medical assistant until a child life role became available. She has now been at Children's for 25 years. Her favorite thing about child life is, "just knowing the small part you play in this big picture that can have such a positive impact on future hospitalizations and coping."
Child life specialists help minimize the stress on children and their families while in the hospital and help kids to positively cope – making a lasting impact on the children and their families, whatever their situation may be.
About 10 years ago, the camp liaison role at Roundup River Ranch opened and she realized that was the next opportunity that she would love to pursue. As a kid who grew up in a small town, she loved going to camp and meeting lots of different people. Especially in a medical setting, Bethany recognized that children with serious illnesses may feel isolated because of their medical conditions.
"Many times people think about camp in the context of a fun experience for healthy kids, but they don't realize the lifelong impact it has, especially for kids with medical conditions – the importance of fun and normalcy, social connection with kids living through similar health experiences and the growth that comes with challenging oneself and achieving in a safe environment."
Now in her role with Roundup River Ranch, Bethany spends her time spreading the word about camp! From reaching out to patient caregivers, to doing presentations about camp, to assisting caregivers through the application process, to helping at bus check-ins, her role varies throughout the year – all in support of camp.
Although she doesn't always get to see the process come full circle with all the families she contacts, one of her favorite memories was when she saw a video about a camper and family that she had initially contacted nearly 8 years ago. 
"It was just one of those moments. I remember looking at that thinking, who knew at that time when I went into their clinic room, gave them information, (and at the time they were overwhelmed), that then a year later they would reach back out and then years later it would turn into this thing where …camp had such an impact on her. That probably is one of the greatest memories I have. It was years in the making."
Bethany loves getting to see and connect with families and hear caregivers talk about the impact Roundup River Ranch has on their campers. 
"I love working with this team. It's always been awe-inspiring to me to have a team of people that is focused and dedicated to work where the outcomes aren't always measurable or visible, if that makes sense. That the outcomes from camp are the smiles and the laughs and the friendships and the relationships – there has been research done on it, obviously. But it's not always quantifiable or measurable. Often, it's just knowing in your mind that you did your best to make an impact on these kids. A small piece in a big puzzle."
The Roundup River Ranch team is extremely grateful for Bethany's continued passion and dedication as Camp Liaison, and the role she plays in bringing more children to camp.