THIS IS EMMY! 
One of our extraordinary volunteers of the 2022 season, was Emmy, a new volunteer to Roundup River Ranch. Emmy moved to Colorado in 2020 and immediately looked for a nonprofit to get involved with relating to health, well-being, and kids. She added, "If there's something that's also outdoorsy, that can help bring joy and quality of life to little humans, that would check all the boxes for me." When she found Roundup River Ranch, she said "I have hit the lottery!"
Emmy quickly jumped at the opportunity to volunteer at Summer Camp, Family Retreats, and Family Camp Online! As a big believer in the impact fun and connection on people's mental health, she found camp to be a place that supported that same vision and created joy for campers and their families.
Throughout each program, she was able to recognize how challenging a medical diagnosis can be for anyone, she shared, "It's just so amazing to see these kids that have gone through so much adversity in their life already, grabbing life by its horns at camp."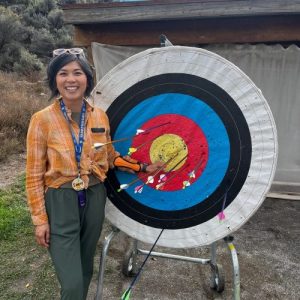 With oodles of memories and experiences from camp, a few stood out to Emmy! "I love Stage Night. It's so great to see the kids come out on their own like that." Another highlight for Emmy was leading a martial arts class with the campers! "To see them being really into it and wanting to perform it at Stage Night was really amazing." They even held a mini graduation ceremony from white belt to gold belt during Stage Night to recognize the challenge campers had taken on.
"I feel like I was able to positively impact the kids, but I almost feel like I got more out of it than the kids because it was so rewarding, and so inspiring. I will never forget this experience."