This blog post was originally featured on Macaroni Kid, published June 26, 2020 by Christen Reiner. View original post here.
---
Roundup River Ranch, an organization that provides free camp experiences to children with serious illnesses and their families, has stepped it up with a virtual alternative for the 2020 Summer Camp season. This March, in the wake of COVID-19, Roundup River Ranch made the difficult decision to not offer on-site programs through July. This includes all Summer Camp programming and Family Camp 1. The camp views this not as cancellation, but an opportunity to pivot and do something innovative, bringing camp to life in a different way during these unprecedented times.
As the summer season kicks off, so will camp on a virtual platform. Campers will have the option to attend their week-long experience to still connect with their cabin mates and friends who have been on a similar health journey. Even though campers, staff, and volunteers will be miles apart, all will have the ability through this online experience to participate in cherished camp activities such as dancing, singing, silly moments, and building connection among one another. 
Roundup River Ranch knows that their campers' lives are filled with anxiety, loss of control, and the unknown about their health and the future. During these historic times, Roundup River Ranch is committed to keeping joy and peer-connection a consistent presence in the lives of campers, their families, volunteers, staff and supporters.
"The generosity we have received is truly so appreciated. Assistance and encouragement from our community is so vital. We are still committed to providing a free and memorable experience for all of our campers and their families," stated President and CEO, Ruth B. Johnson. "In addition to the digital component of camp, we will also bring camp to their doorstep by sending our campers a 2020 camp t-shirt, wood cookie, wish star, directions to outcome-based activities that can be done independently at home, and supplies for all projects."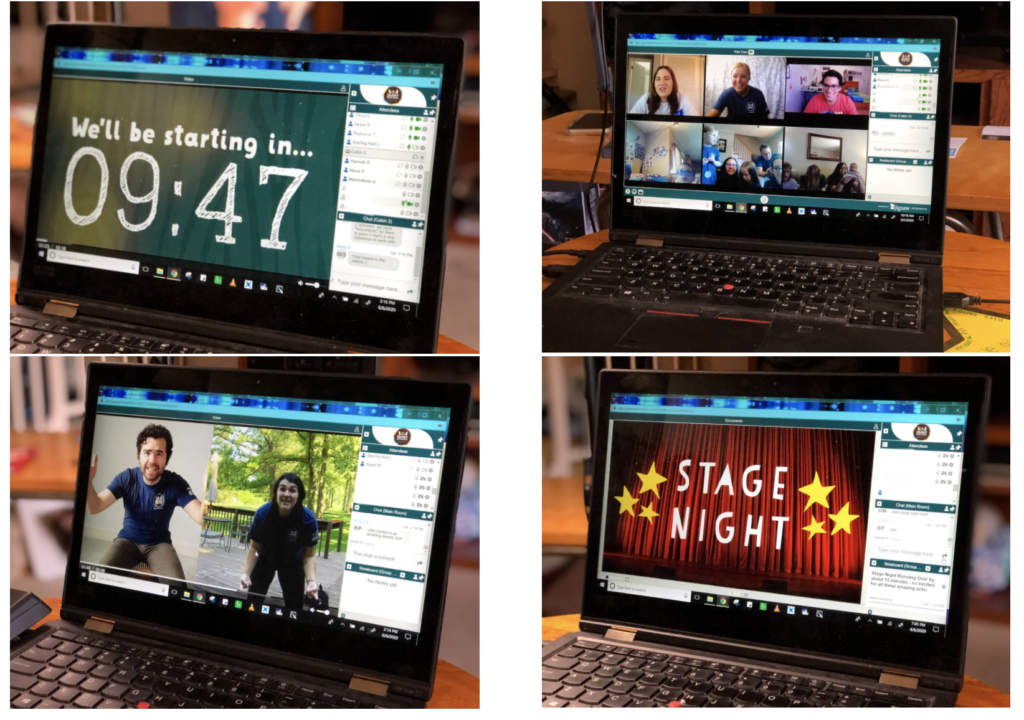 OUR PERSONAL EXPERIENCE
My daughter has Celiac Disease, and discovering Roundup River Ranch has truly been a gift for our family. We attended Family Camp in person in Gypsum, and it was one of the BEST experiences we've had together as a family. Connecting with other families and kids who are dealing with similar health issues was incredible. Enjoying a menu that was entirely gluten free was actually quite relaxing for us as parents… and knowing that my daughter could eat anything without fear of "getting glutened" was a welcome change to our normal routine of checking every label. But the activities that we were offered, at no cost to our family, were beyond anything I could have hoped for. Horseback riding, rock climbing, fishing, archery, canoeing, singing, dancing, skits, riddles, jokes, painting, outdoor games, and cabin activities kept my entire family entertained and happily busy for the whole weekend. Without electronics. It was a weekend full of good, old fashioned fun. 
And it was MAGIC.
So, when we heard that camp was going virtual this year, we wondered how they were going to keep that magic going. But, it was Roundup River Ranch, so we were willing to take the chance. And, boy, were we glad we did!
We attended the first-ever Roundup River Ranch virtual Family Camp in June. Before camp even began, we received a camp box at our home, full of familiar goodies from traditional camp, like "wood cookie" name tags to decorate and Roundup t-shirts, plus a few new activities and a camp schedule to look forward to! We excitedly (and a bit nervously) cleared our schedule for our designated weekend. We couldn't wait until camp day!

Just like traditional camp, we were assigned to a cabin, where we connected with our staff leaders (many joining us from other countries… so cool!) and families. Camp kicked off on Friday evening with an opening campfire, check-in, welcomes, and cabin introductions (including some really fun ice breakers).  Saturday was filled with lots of laughs, virtual connections, and a variety of activities with other parents, our cabin mates, and all of the camp staff and families. We even participated in a live talent show! Sunday wrapped up our camp time with closing ceremonies and farewells. And all of this was done virtually with an awesome program called Jigsaw Interactive.
Roundup River Ranch thought of absolutely everything to ensure that virtual camp was just as fun and meaningful as traditional camp. We really felt like we were at camp for the weekend. Despite the fact that this was their very first attempt with this kind of platform, transitions were seamless, the activities were super fun, and connections were just as strong. We were nothing short of completely impressed, and would not hesitate to recommend virtual camp to other families or individual campers. In fact, we couldn't stop talking about how surprised we were that the amazing staff at Roundup was able to pull this off with such success.